About Maxim Integrated Products
Maxim Integrated Products was established in 1983. In 2001, Maxim acquired
Dallas Semiconductor
.

Maxim's mission is to deliver innovative analog and mixed-signal engineering solutions that add value to our customers' products.


Download Company Brochure
(PDF, 3.4MB)


What We Do
At the core of any electronic product is a microprocessor that interacts with its environment—people, the physical world, power sources, and other digital systems. Maxim is a worldwide leader in the design, development, and manufacture of analog, mixed-signal, high-frequency, and digital circuits that enable all four of these key interactions. We serve approximately 35,000 customers worldwide.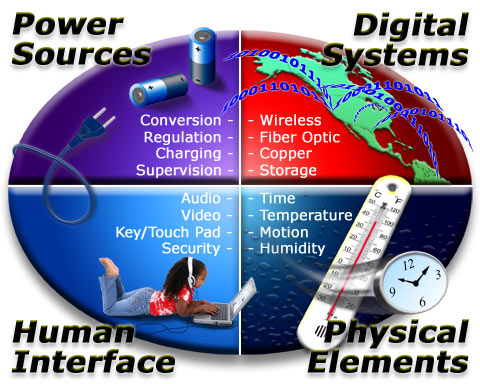 Our semiconductors are the interface between digital processors and the physical world.
Our Products
Maxim delivers over 6200 products. Over 80% of these products were invented by the Company's design engineers. Our products include:


Data Converters

Interface Circuits

RF Wireless Circuits

Clocks and Oscillators

Battery-Management Circuits

Fiber Optic Transceivers

Storage

Microcontrollers

Operational Amplifiers

Power-Management Circuits

T/E Carrier Transceivers

Switches and Multiplexers

Sensors

Voltage References

Automatic Identification
Our products are used in a wide variety of microprocessor-based electronics equipment. A sampling of the applications for our circuits includes consumer electronics, personal computers and peripherals, handheld electronics, wireless and fiber communications, test equipment, instrumentation, video displays, and automotive applications.


Maxim Product Line Card
(PDF, 51KB)


Business Information
Maxim leverages its proprietary
wafer fab technologies
and world-class engineering team to develop innovative solutions for rapidly growing markets. Maxim reported revenue in excess of $1.6 billion for fiscal 2009.


Maxim Revenue
Maxim has posted a profit every year since it went public in 1988.

Maxim became a public company on March 1, 1988.


Dallas Semiconductor
, which was founded in 1984 and went public in 1987, became a wholly owned subsidiary of Maxim in 2001.


Company Culture and Ethics
Maxim Principles
—Thirteen principles, defined by our founder over 20 years ago, guide all employees to achieve personal and corporate success.


Code of Business Conduct and Ethics
(PDF, 40kB)


Code of Corporate Social Responsibility
(PDF, 36kB)


25 Years of Growth and Innovation
Worldwide Locations
Corporate Headquarters
Maxim Integrated Products, Inc.
120 San Gabriel Drive
Sunnyvale, CA 94086
408-737-7600
Fax: 408-737-7194


Directions
Sales Offices
Technology Centers
Map of Worldwide Locations